Kinetec Maestra Portable Hand CPM Machine
The Maestra Portable Hand CPM is lightweight and simple to operate. Without the traditional set-up of other hand CPM machines, the patient can easily and quickly receive comprehensive motion therapy for a wide variety of indicators.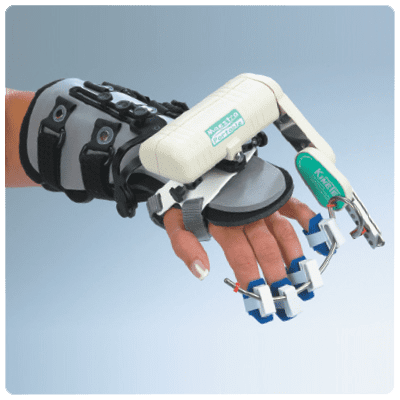 MOBILITY IN MOTION
---
Clinical Benefits
Anatomically shaped drive bar enhances abduction and adduction of the web spaces as the joints are being mobilized.

Up to 15-minutes of pause at extension and flexion limits allows for a controlled stretch and rest period.

Composite flexion, intrinsic plus and minus motion included.

Convenient digital display of angle, ROM settings, speed and force.
Indications
For the treatment and prevention of intra-articular adhesions, extra-articular contractures, and excessive post-operative swelling. Indications include the following:
Open reduction and rigid internal fixation of intra-articular, diaphyseal and metaphyseal fractures of the phalanges.

Capsulotomy, arthrolysis and tenolysis for post-traumatic stiffness of MCP and PIP joints.
Particular
Dimensions
Range of Motion
Fingers: 45° hyperextension, 270° flexion (full fist)
Thumb
Full opposition
Wrist
55° flexion to 90° extension
90° pronation to 90° supination
Full abduction/adduction
Intrinsic +
0° extension to 90° flexion
Intrinsic –
0° extension to 180° flexion
DIP
0° to 70°
Approval
UL-listed