Saunders®
Cervical Traction
The Saunders Cervical Traction Device is designed to provide traction (stretching) to the cervical region (neck). The device requires no assembly and is ready to use out of the case. A prescription is required.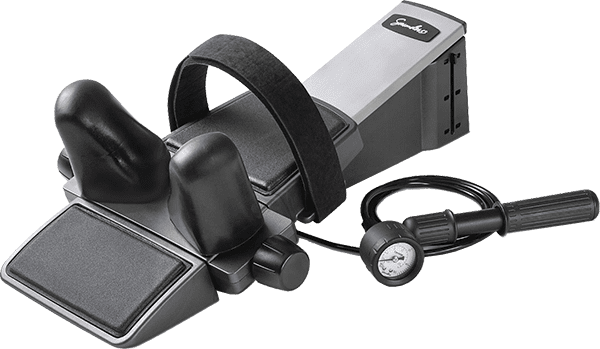 MOBILITY IN MOTION
---
Traction forces are directed to the back of the head to prevent compression of the TMJ
Easy-to-read pressure gauge provides total control of the force at all times
Blow-off valve limits the amount of force that can be applied
Innovative design replicates clinical traction and promotes consistency of treatment
Positioning alternatives allow varying treatment options for the clinician
Patented pneumatic system ensures reliable force accuracy and leak-free performance
Easy to Use – a portable treatment solution that increases patient compliance and satisfaction
Patented self-adjusting neck wedges ensure a perfect fit
Patented pump design incorporates a simple "click in place" mechanism
Quick and simple patient set-up enables home traction without assistance

Bracing Solutions
---
We are your bracing headquarters fulfilling all of your requirements including sales, rental, repair, parts sourcing, delivery, and other services.
ANKLE
Three modalities for tissue elongation (static progressive, dynamic, and dual function)
Bi-directional hinge allows both flexion and extension in a single device
Circular hinge for terminal range of motion
Light-weight and rigid aircraft aluminum maintains anatomical alignment
SHOULDER
Three modalities for tissue elongation (static progressive, dynamic, and dual function)
Bi-directional hinge allows both flexion and extension in a single device
Circular hinge for terminal range of motion
Light-weight and rigid aircraft aluminum maintains anatomical alignment
ELBOW
Three modalities for tissue elongation (static progressive, dynamic, or dual function)
Bi-directional hinge for flexion and extension
Circular hinge for terminal end range of motion
Light-weight and rigid aircraft aluminum maintains anatomical alignment
Slider technology prevents joint compression & point loading
HAND
Three modalities for tissue elongation (static progressive, dynamic, & dual function)
Bi-directional hinge allows both flexion and extension in a single device
Circular hinge for terminal end range of motion
Light-weight and rigid aircraft aluminum maintains anatomical alignment
Slider technology prevents joint compression & point loading